Whitby Events, Places to Visit & Things to Do
Our Top 10 Must-do's on your Whitby seaside holiday.
1. Make your check list.
You've booked your Whitby holiday cottage with us, now it's time to prepare for your stay, especially for the kids. Don't forget your Beach Towels (We provide towels for your cottage, but we ask that you don't take them to the beach), swimming costumes, sun cream, buckets and spades, fishing nets, beach ball and frisbee (If you're bringing your dog then he will enjoy these too) What about hiring a beach hut? You can find details Here.
2. Take a dip in the sea.
Be brave. The water may be cold but an invigorating dip in the sea will do you the world of good! The kids will enjoy playing in the sea too, whatever their age. If you fancy giving surfing or paddle boarding a try there's a surf school in Whitby and Sandsend. This activity is great for the whole family to enjoy, and they can provide all the equipment you need, so there's no need to buy a wetsuit or surf board.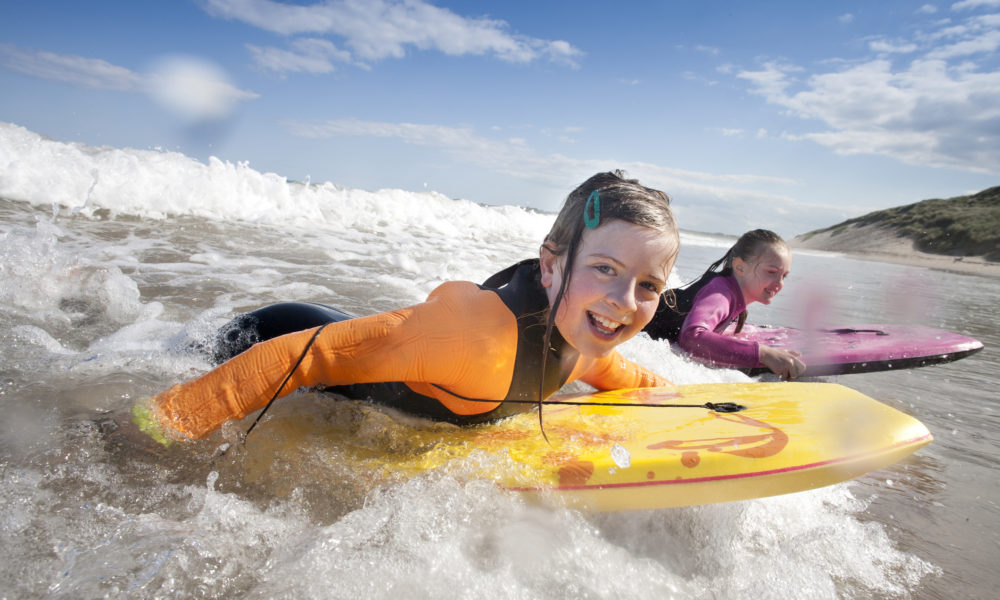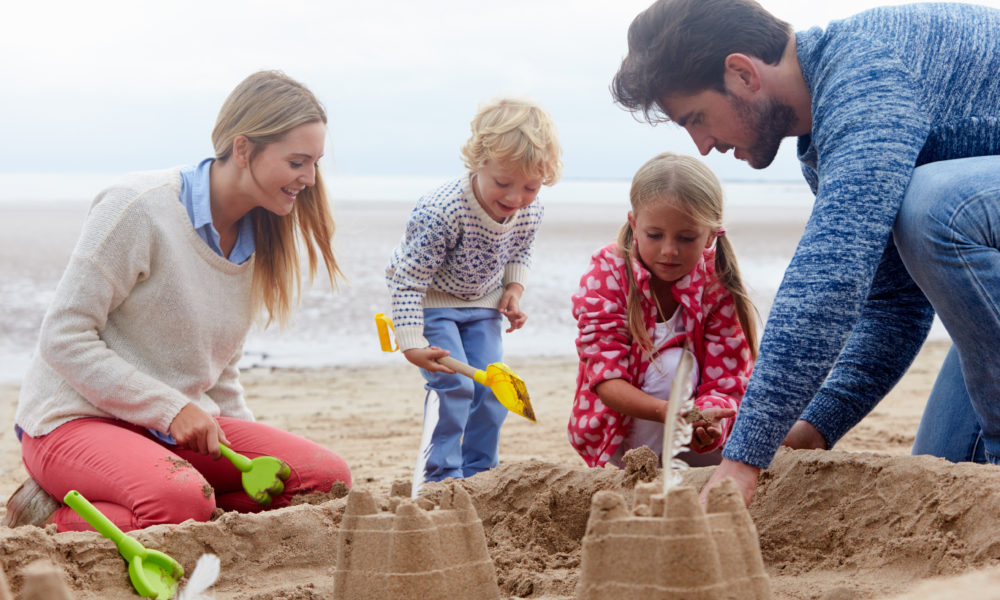 3. Have fun on the beach.
Spend some time with the kids building sandcastles. If the beach isn't too busy why not fly a kite. Get the whole family involved in some beach games like volleyball, rounders or frisbee, it's lots of fun and it's all free!
4. Rock Pooling.
Rock pooling is another popular activity the whole family can enjoy, any time of year, come rain or shine. Whitby has a good mix of both sand and rocky beaches; the latter being covered in sea life rich rock pools.  If you decide to go rock pooling be sure to go when the tide has gone out, so that the pools are revealed and full of fresh sea life. You might also want to take a bucket and net with you, so that you can examine your nature finds up close, although always remember to put the sea life safely back. You can expect to find starfish, crabs, shrimps, and fish, as well as colourful seaweeds and shells.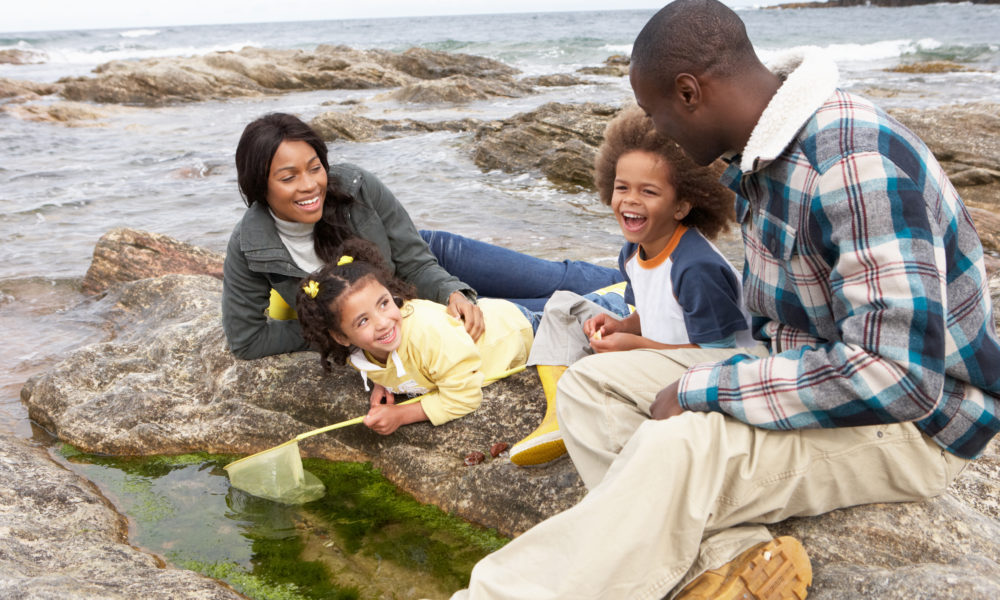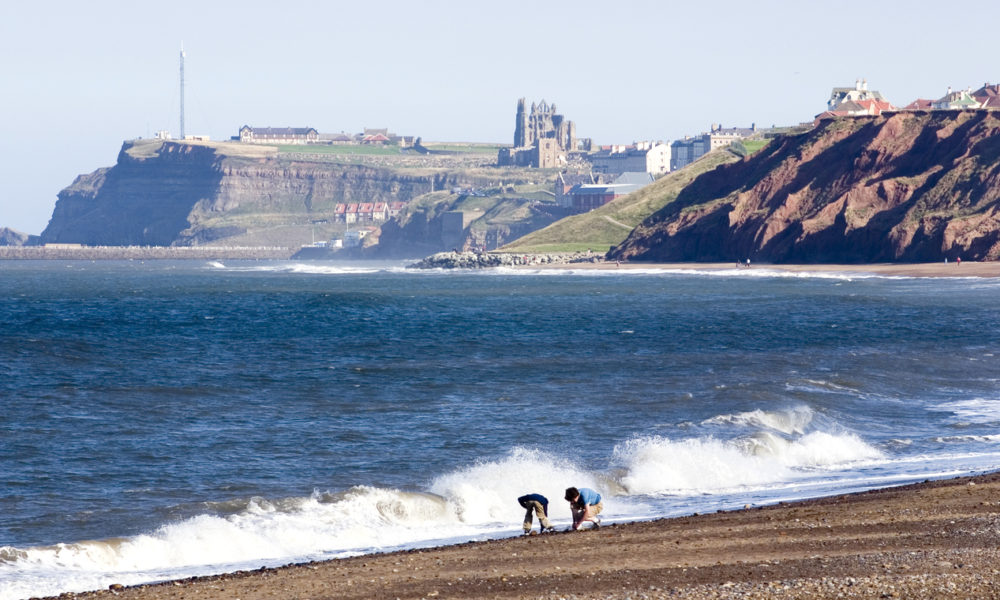 5. Fossil Hunting.
Whitby's cliffs hold a wealth of dinosaur remains and ammonite fossils, many of which can be found in the gift shops located along the sea front. However, it's more fun to hunt for your own unique fossil finds. Many of these fossils can be found in the loose rock that has broken free from the cliff faces, due to the constant erosion caused by the sea. You will find all you need to know about how to find fossils in our guide Here.
6. Beachcombing for Jet.
Have you heard of Whitby Jet? Jet is classed as a semi-precious stone which, when cut and highly polished, can be used to craft beautiful pieces of jewellery. You may have noticed that there are quite a few shops in Whitby selling Jet Jewellery. If you fancy doing a spot of beachcombing and searching for Jet, the best place to look is along the beaches under the cliffs. Small pieces of Jet can be found washed up by the tides amongst the seaweed and the rocks.
If you are lucky enough to find anything you think could be Jet, then there is an easy way to check it. To find out how to check if it really is Jet, Click Here.
7. Take a fishing boat trip.
Whether you're a total beginner or a seasoned angler, Whitby has plenty of choice for sea fishing trips.
The fishing trips regularly leave the harbourside with the choices of 3 or 4 hour trips which are ideal for beginners and children, or longer trips of up to 10 hours, leaving early in the morning. In summer there are also 2-hour evening trips available where mackerel can be caught – great fun for all the family.  Fishing Boat Trips.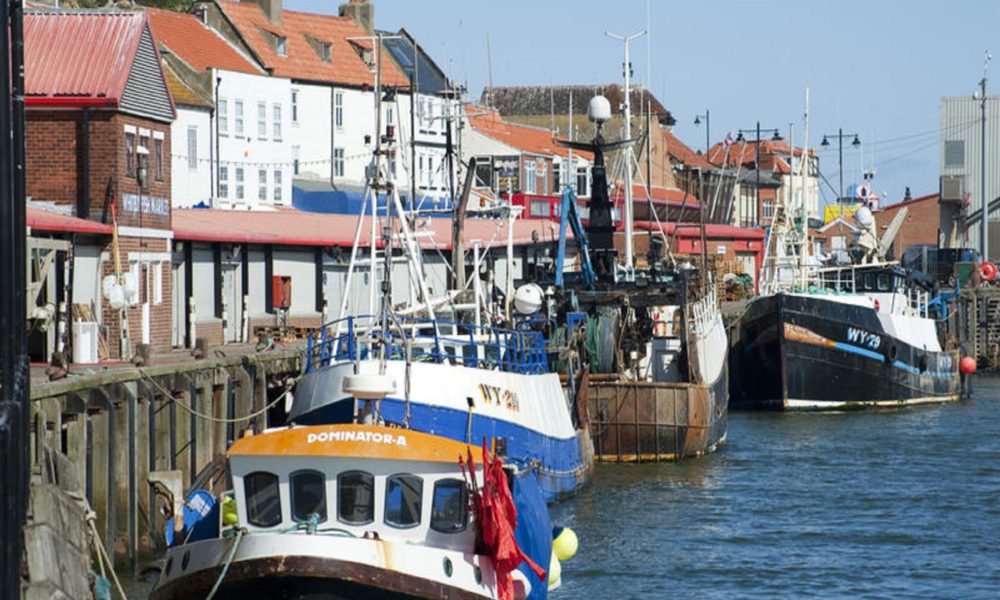 8. Eat some traditional seaside food.
You're at the seaside so you really should sample some traditional seaside food and treats. You'll find lots of little shops and stands selling ice-creams and waffles and of course there's the classic seaside rock. Just walk along the harbourside to find stands selling little pots of takeaway cockles, winkles and shrimps; the perfect snack to keep you going till teatime.  Then, after your day full of seaside activities, surely it should be a fish supper! Whitby offers a host of Fish and chip options. You can either sit down and relax in one of the popular fish and chip restaurants or choose a takeaway to eat in the comfort of your holiday cottage. You can find our recommended Restaurants and Take-away's in our Food and Drink Blog pages. You'll also find that a lot of them are also dog friendly!
Oh, we almost forgot breakfast! Whitby is also famous for its kippers. You will find Fortunes Smokehouse on Henrietta Street. As well as smoking herrings the Fortune family also smoke haddock, salmon and bacon. All of these can be bought in the shop attached to the smokehouse.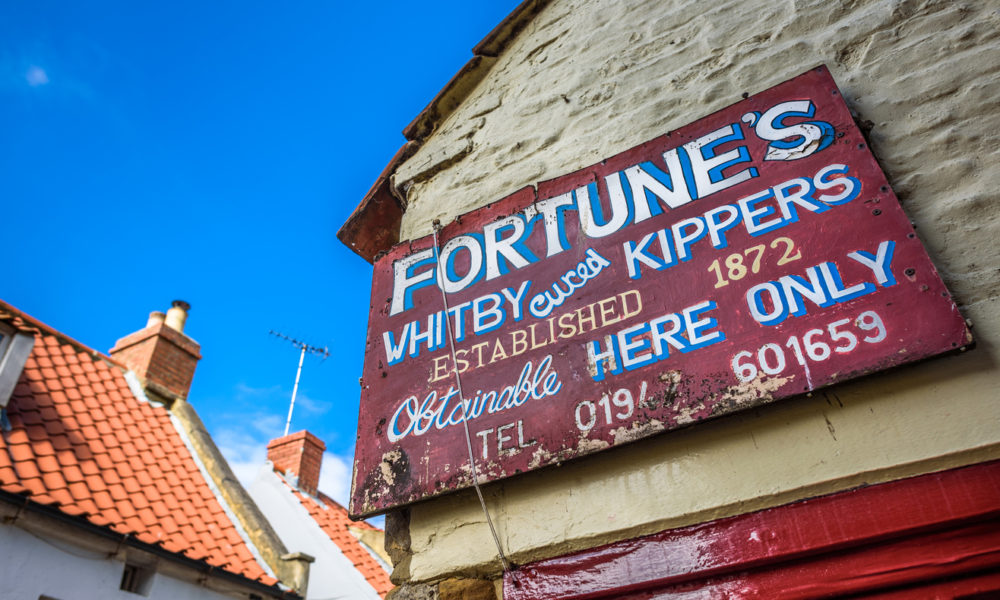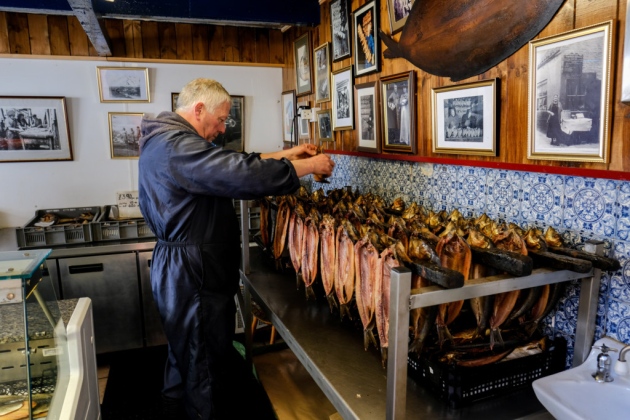 9. Send postcards and shop for souvenirs.
It's easy to keep in touch with family and friends now on social media, text and phone, but we think it's fun to send a postcard. Just think how much pleasure it would bring if your children sent a postcard to their grandparents and friends! The kids will enjoy choosing the postcards too. Why not browse the great selection of souvenir shops and pick up something to bring back memories of your holiday or choose a souvenir to take back for your special friends.
10. Take a stroll along the piers.
Whitby has 2 piers, one on the East side and one on the West. Take a stroll along the piers, have a look at the lighthouses, gaze out to sea and watch the boats coming and going. Don't forget to turn round and look back at the town. This is a great spot to take photos!