Whitby History & Mythical Tales
Whitby's Worldwide Connections
Mainly due to the voyages of Whitby's famous explorer Captain James Cook Whitby has connections to Australia, New Zealand and Canada.
On Captain Cook's first voyage of discovery he crossed the Atlantic to Tahiti then on to New Zealand where he charted the coastline. There is now a large suburb in New Zealand named Whitby which also has nautical street names in honour of Captain Cook.  After New Zealand they set sail again and landed in Australia where he was the first European explorer to see and chart the Eastern coast of Australia. He surveyed, named features, and recorded islands and coastlines on European maps for the first time.
At one point on his voyage the endeavour had been badly damaged and had to be put ashore at the mouth of a river to be repaired. This river is now called the Endeavour River, after Cook's vessel and the town which grew there was named Cook Town.  From here they carried on to the northern most tip of the coast where Cook named it Cape York.
Many place names in Australia were either named by Cook or named in his memory. In 1934 the cottage built by Cook's parents in Great Ayton, on the edge of the North York Moors was bought, taken down brick by brick, shipped and re-assembled in Melbourne, Australia. The cottage still stands there to this day.
There are memorials to Captain Cook throughout Australia.  This one is in Canberra.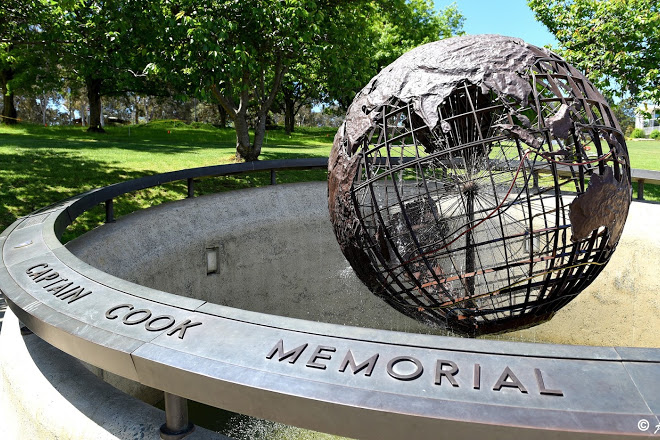 On another of Cook's voyages he landed at Nootka Sound on Vancouver Island. Here Cook named the cove where they anchored, Ship Cove, this is now known as Resolution Cove after his vessel. From here he explored and mapped the coast all the way to the Bering Strait, on the way identifying what came to be known as Cook Inlet in Alaska.    In a single visit Cook charted most of the North American northwest coastline on world maps for the first time.
Another connection to Canada is the Whalebone Arch on West Cliff in Whitby.  In 2003 the original Jawbones were replaced with another set. The new jawbones came from a Bow Head Whale and were donated by Whitby's sister town of Anchorage, Alaska. They were found abandoned after a legal hunt by native Inuits on Alaska's northern coast. You can read more about Whitby's whaling industry Here
Whitby, Yorkshire also is twinned with towns across the globe. One being Whitby, Ontario in Canada as well as Anchorage in Alaska and Tonga which was also visited by Captain Cook.