Whitby History & Mythical Tales
Francis Meadow Sutcliffe – photography of everyday life in Whitby
Francis Meadow Sutcliffe was a pioneering photographic artist. His work painted a picture of everyday life in and around Whitby and the surrounding areas in late  Victorian times and the early 20th century.
Francis Meadow Sutcliffe, also known as Frank, was born in 1853 in Headingley, Leeds, and was the eldest of 8 children. The family moved to Whitby in 1870 where his father, a painter, had hoped to gain work by way of commissions. Sadly Frank's father Thomas died a year later when Frank was just 18.
Frank had aspired to also be a painter like his father but now being 'Head of the Family' and needing to support them, started a career as a portrait photographer. After a spell working in Tunbridge Wells Frank returned to Whitby where he set up a studio on Skinner Street. In Victorian times Whitby was very popular with holiday makers and Frank made a living taking portrait photos of wealthy holiday makers in his studio. Although this paid the bills Frank was happier out and about in the town and surrounding villages taking photos of 'real' people. Locals going about their daily work and family life, fishermen and their vessels and the beautiful surrounding countryside.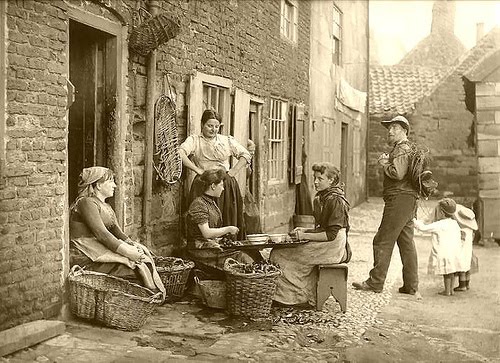 His large camera was made of mahogany with brass fittings and took 'whole plate' glass negatives. Photography in those times was not an easy craft and took great artistry and lots of time to set up and produce the finished article.
Frank became world famous as one of the greatest pictorial photographers of the time and was made an Honorary Fellow of The Royal Photographic Society in 1935, the highest award attainable. He was also known for his writings about photography and had regular articles published in the Yorkshire Weekly Post.
In 1922 Frank retired from photography and in 1941 at the age of 87 he died at his home in Sleights, where he had lived with his wife Eliza and his children. He was then buried in Aislaby church yard.
A collection of 1500 of Sutcliffe's' glass plate negatives was bought by the Shaw family in 1959 and The Sutcliffe Gallery was established in Whitby.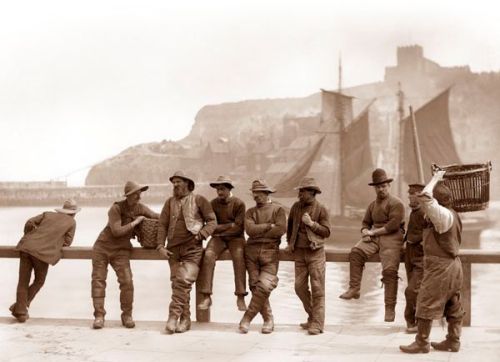 More of Sutcliffe's photographs can be found at The Sutcliffe Gallery in Whitby.