Whitby History & Mythical Tales
Dora Walker – Whitby's first female Skipper
Whitby has had many interesting and quite famous characters over the years. One such person was Dora Walker.
Dora Muriel Walker was born on 2nd July 1890, the tenth child of John and Elizabeth Walker. She was born at Mirfield in Yorkshire. When she had finished her schooling, she founded the Boys Club in neighbouring Ravensthorpe, taught at the Sunday School and joined St Johns Ambulance classes.
In 1914 she joined up as a nurse in London then she went to work in Hospitals in France during the war.  At the end of the war she returned to nursing in London's East End. Dora suffered with bronchial problems after the war and was advised by her doctor to move to the coast – which she did. She bought a house in Sandsend and a boat which she named 'Good Faith'.  She fished from Whitby, and qualified and acted as a pilot for boats through the minefields. She was the only woman skipper to hold her licence in the North Sea throughout WW2.
Dora took on Laurie Murfield as her crew. Despite the adverse reaction of his fellow Whitby fisherman, Laurie came to respect and admire Dora's capabilities. Skilful in handing long lines and crab pots and with fine navigational skills, she became known as Skipper Dora and was accepted and respected in the fishing community.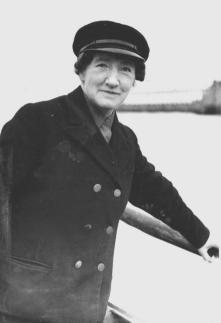 After WW2, she created a fish company with her brothers James and Ronald. They bought fish from the local fisherman at a reasonable price to sell on to struggling families, often selling at a loss.  This was kept a secret until Dora died in 1980.  When she retired from fishing, she gave Murfield and his son her boat, 'Good Faith'.
In 1946 Dora became curator of the Shipping section of Whitby Museum and also wrote a book. The book recounted tales of her adventures at sea and how she coped with such a physical and dangerous career.   She was also made Vice President of the Whitby Literary and Philosophical Society and President of the Ladies Lifeboat Guild in 1952, Keeper of Whitby Museum in 1954 and a Fellow of the Royal Society of Arts in 1953.