Why We Love Whitby - Resident and Tourist Interviews
Whitby Folk – the owner of The Owl And The Pussycat
Whitby is full of interesting people. Through their daily work they help keep the town ticking and help make it a great town to visit. Shoreline Cottages has interviewed a number of these 'Whitby folk' to find out why they love the town so much and how they think it's changed.
Today we meet Mark Gregg, the owner of The Owl And The Pussycat in Whitby, a small vintage-style shop situated in the old part of the historic sea-side town of Whitby. They stock clothes and accessories from ditsy vintage florals to gothic burlesque glamour and everything in between.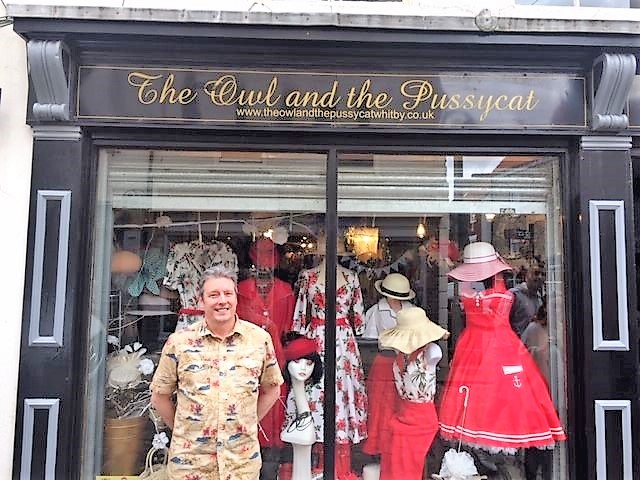 What is your name?
Mark Gregg
What is you job title?
I'm the owner / manager of The Owl And The Pussycat in Whitby. We sell retro, vintage and burlesque clothing – it's mainly ladies clothing. We sell lots of accessories such as masks, handbags, hats, stockings, gloves, feather boas etc. My wife has worked in the shop for 3 years but we took over the ownership of it a year ago. The job involves meeting the public and talking to them / pointing them in the right direction. I like it when a customer comes out of the changing room with a smile on their face and are delighted with their purchase. We had some celebrities come into the shop, like Vic Reeves and his family!
Do you mind telling us how old you are?
I'm 56
Have you lived in Whitby all your life?
No. We've been coming to Whitby for a few years and we just love the place so we ended up moving here.
What do you love most about Whitby?
Whitby is like a tale. People wear anything they like – it's a fun and accepting place to live / visit.
What do you like least about Whitby?
Trying to get across the bridge on a busy day! It would be great if the park and ride was 24 hr. At the moment you have to collect your car by 10pm and can't leave your car overnight.
What has changed in the town over the past 10 years or so?
The goth weekends have got a lot busier and we now get a lot of repeat business which is good.
Do you have any children?
We haven't got any children, but we do have 2 dogs.
In your spare time what do you like to do?
I enjoy karate and motor cycling.
Will you ever leave Whitby?
We will never leave Whitby – it's such a nice place. We went to a trade show in London a while ago and we couldn't wait to get back to Whitby!