Why We Love Whitby - Resident and Tourist Interviews
Whitby Folk – the owner of Quayside Restaurant
Whitby is full of interesting people. Through their daily work they help keep the town ticking and help make it a great town to visit.
Shoreline Cottages has interviewed a number of these 'Whitby folk' to find out why they love the town so much and how they think it's changed.
Today we meet Stuart Fusco, the owner of Quayside Restaurant; the place to go for 'proper' fish and chips – fried the traditional way in top beef dripping and special-recipe batter. The restaurant is situated right in the hustle and bustle of the Quay in one of the most historic buildings in Whitby.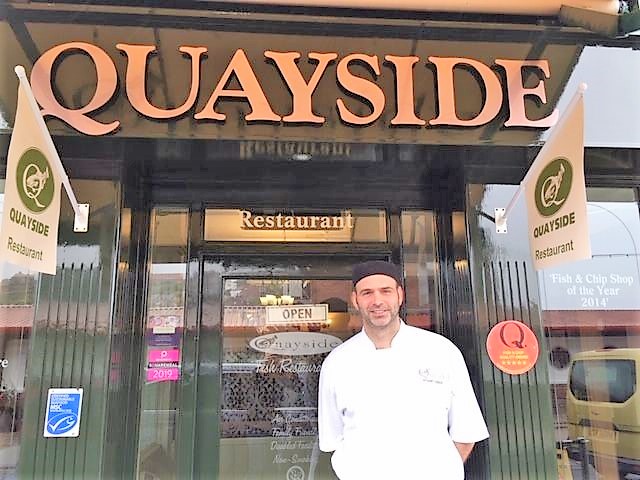 The Fusco Family have been making great fish and chips for three generations in Whitby. Watch this video to find out how they intend to ensure this tradition carries on for generations to come Watch Video
Do you mind telling us how old you are? 42
Have you lived in Whitby all your life? Yes, my family have lived in Whitby for 3 generations. My family have been in the fish and chip business for 50 years (last year was our 50th Anniversary) and I have a Brother and Sister who also work in the business. We have this restaurant and another one called Royal Fisheries.
I've been doing this job for 21 years. I do all the quality control, HR, managing the business as well as the buying and cooking. We sell cod and haddock and we don't just offer fried fish, we also grill it and we cater for most diets. I like meeting people and the satisfaction of people enjoying their fish and chips. The worst thing about this job is that the hours can be anti social. I have a young family so that makes it a little harder. A few years ago we won the national fish and chip shop of the year award. We were officially voted best in the country!
What do you love most about Whitby? I love the town. I love that it's only 5 minutes' from the beach but also not far from the Yorkshire Moors. It's far enough away not to be too commercialised so it can keep it's charm. As a local, I feel privileged to work and live here.
What do you like least about Whitby? There isn't anything to dislike about Whitby but it can get very busy so it would be good if they could make more parking available.
What has changed in the town over the past 10 years or so? The parking is the main thing that has changed. There's lots more zone parking where there used to be free parking. The amount of business has increased and there are more shops. There will be 22 fish and chip shops in Whitby when the new one opens in the centre of town.
Do you have any children? Yes, I have 3 children. 1 boy and 2 girls who are 10, 8 and 6. I'm hoping the children will come into the family business. If they ever leave Whitby, I think they will end up coming back.
In your spare time what do you like to do? I used to play rugby. I like spending time with the kids, having days out, walking, cycling and just being out and about.
Will you ever leave Whitby? I'll never leave. My businesses and family are here and we're happy here.