Whitby History & Mythical Tales
Lewis Carroll and his connection to Whitby
In 1854 a 22 year old student of Christ Church college called Charles Lutwidge Dodgson (Later to become known as Lewis Carroll) came to Whitby as part of a mathematical group to give a series of academic lectures in and around the town. One of the members of his party, a Dr Thomas, is said to have recalled that Dodgson "used to sit on a rock on the beach telling stories to a circle of eager young listeners", and he believed that "it was there that Alice was incubated"
During his stay in Whitby Dodgson had his first piece of work published, a poem called The Lady of The Ladle. The poem appeared in the Whitby Gazette.
2 years later in 1856 another of his poems was published, but in the name of Lewis Carroll. It appears that this new pseudonym was not just a random name of choice but a clever play on words. Lewis was the anglicised form of Ludovicus (the Latin for Lutwidge) and Carroll an Irish surname similar to the Latin name Carolus, from which the name Charles is derived.
Carroll made another 7 visits to Whitby but little is known about these visits. There are thoughts that he came here to relax and escape from his new found fame, as by then he had published Alice's Adventures in Wonderland and Through the Looking Glass And What Alice Found There.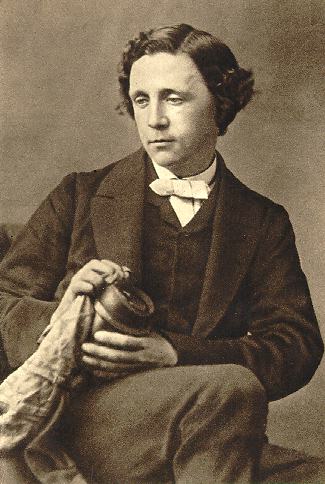 Another connection between Lewis Carroll and Whitby is the poem The Walrus and The Carpenter found in Through the Looking Glass.  It was thought to have been inspired by Carroll's walks along Whitby beach.
In November 2008 a 'Blue Plaque' was unveiled in Memory of Lewis Carroll.  This can be found on the wall of The Rosa Hotel on West Cliff, where Carroll stayed during his visits to Whitby.
In 2018 Whitby In Bloom created an Alice In Wonderland themed garden on Cliff Street with an archway of playing cards and a planter in the form of The Mad Hatter's Hat.