Why We Love Whitby - Resident and Tourist Interviews
Whitby Folk – assistant bar manager at Whitby Rugby Club
Whitby is full of interesting people. Through their daily work they help keep the town ticking and help make it a great town to visit.
Shoreline Cottages has interviewed a number of these 'Whitby folk' to find out why they love the town so much and how they think it's changed.
Today we meet Emma Evett, the assistant bar manager at Whitby Rugby Club – a very friendly club with an emphasis on traditional rugby values. Their main aim is to provide sport and a place to meet for their surrounding community. They are affilated to the RFU and the YRFU and currently play in Durham & Northumberland League Division 2 after winning promotion last season and their Harlequins play in the Teesside Social League. They welcome new players to the club.
The club has a lounge area, function room, 2 squash courts and 6 changing rooms for rugby and football. They have Sky TV with BT Sport and 2 pool tables.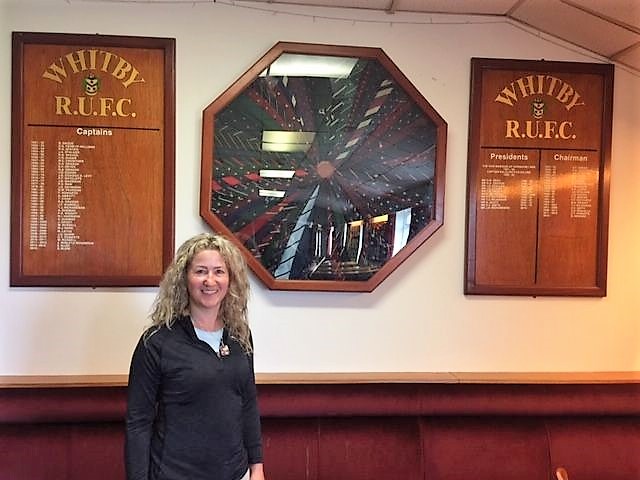 Can you tell us a bit about your job?  The Rugby Club has been here since 1951 and we have a thriving junior side as well as 2 mens teams. The club opens on weekday evenings from 7pm – midnight and on weekends from 12 noon to midnight. It's open to members as well as the public. I've worked here for 20 years and I've been a manager for 2 years. I like the atmosphere. Local customers come in every week and it's very friendly. My job is to open up the bar, serve customers, manage staff, sort out the takings and lock up at the end of the day.
Do you mind telling us how old you are? I'm 52.
Have you lived in Whitby all your life? Yes, I've lived here all my life. My Mum worked for the RAF Fylingdals and my Dad was a farmer.
What do you love most about Whitby? My friends and most of my family are here. There's little crime and it's very picturesque.
What do you like least about Whitby? Not being able to park and the parking we do have is too expensive!
What has changed in the town over the past 10 years or so? The amount of visitors has increased – it used to only be busy in the summer, now it's all year round. There are various festivals that encourage people to visit the town during all seasons.
Do you have any children? I have 3 children. 2 daughters who are 20 and 24 and a 10 year old son.
In your spare time what do you like to do? I make glass and sell different glass items such as bowls.
Will you ever leave Whitby? Possibly