Why We Love Whitby - Resident and Tourist Interviews
Whitby Folk – the owner of The Whitby Deli
Whitby is full of interesting people. Through their daily work they help keep the town ticking and help make it a great town to visit.
Shoreline Cottages has interviewed a number of these 'Whitby folk' to find out why they love the town so much and how they think it's changed.
Today we meet Catherine Cook, the owner of The Whitby Deli where they showcase the best of Yorkshire's produce. The shelves are packed to the rafters with their award winning own-label chutneys, jams and preserves alongside sweet and savoury treats, artisan chocolates and store cupboard essentials. They also stock a wide range of Gluten Free products including pork pies & pasta.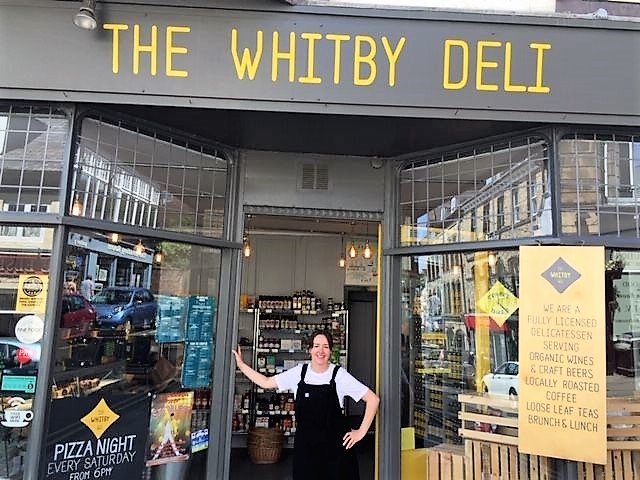 What is you job title? I'm the owner of The Whitby Deli.
Do you mind telling us how old you are? 41 years old.
Have you lived in Whitby all your life? No, I've lived here for the last 5 years. I decided to move here because there is no better place to live. The Whitby Deli is open 7 days a week and we serve the best coffee in town as well as brunch and lunch, cakes, pizzas etc. We also offer a great selection of craft beers, homemade wine and Whitby Gin. I enjoy our customers and the locals – they have bcome friends. It can be stressful being a business owner but our customers enjoy our products so that makes me happy. We've had a few celebs come in such as Harry, the drummer from McFly.
What do you love most about Whitby? Whitby is a wonderful place to bring up children. For such a small town it's really diverse and the locals are really friendly.
What do you like least about Whitby? We're about an hour away from anywhere which can be frustrating at times when you need something – it can of course work the other way and be a good thing! I find working within a seasonal calendar challenging and trying to get the balance right of what my local customers need and what the holiday makers want from us.
What has changed in the town over the past 10 years or so? I've only lived here for 5 years but the area of the town has changed dramatically. I think we have been instrumental in other similar businesses starting up in the area.
Do you have any children? Yes, I have Martha who's 4 years old and Dorothy who's 9 months old.
In your spare time what do you like to do? I love spending time with my kids. We have a beach hut for the summer and we use that. We like visiting Falling Foss – it's waterfall walk with nice walks and a lovely tea garden.
Will you ever leave Whitby? Never say never but I have my family and my business here and Martha starts school in September so I have no plans to leave!