Whitby Food & Drink
Whitby Food and Drink Artisans and Producers – Radford's Butchers – award winning family butchers
During your stay in one of our cottages you may like to sample some of the great local produce on offer in Whitby. There are many good reasons and benefits for buying local produce. You are supporting small local businesses; getting fresh, seasonal, quality produce;  cutting down the distance the produce has to travel also cuts down on the carbon footprint and of course it is more likely that you will find specialist produce suiting your nutritional needs such as Organic, Vegan and Gluten Free produce.
We would like to introduce you to some of the finest food, drink and produce suppliers and artisans in Whitby and the surrounding area.
Radfords Butchers.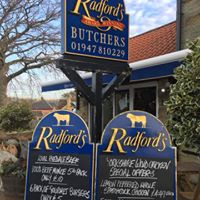 Radfords Butchers is located in the village of Sleights, just a short drive to the outskirts of Whitby. The shop can be found at 81 Coach Road, Sleights. YO22 5EH.
This Award Winning Family Butchers have been in Sleights for over 30 years and is now being run by Andrew, the fifth generation of the family.
Andrew visits the local cattle market on a weekly basis to select the best quality specialist breed animals, all their meats are traceable back to the farm of origin.
Alongside the fresh meats, burgers and sausages the shop also offers freshly cooked steak pies and pork pies, made from a family recipe, fresh bread and a fabulous selection of fresh vegetables, all locally sourced. There's also a deli counter with a selection of cold meats and chilled, ready to cook meals.
For more information on Radfords Butchers please click here.