Whitby Events, Places to Visit & Things to Do
Falling Foss Waterfall and Tea Garden – a great day out!
I'd read articles and heard people say fantastic things about Falling Foss Waterfall and Tea Garden but I'd never been so I decided to finally take the children there last week…..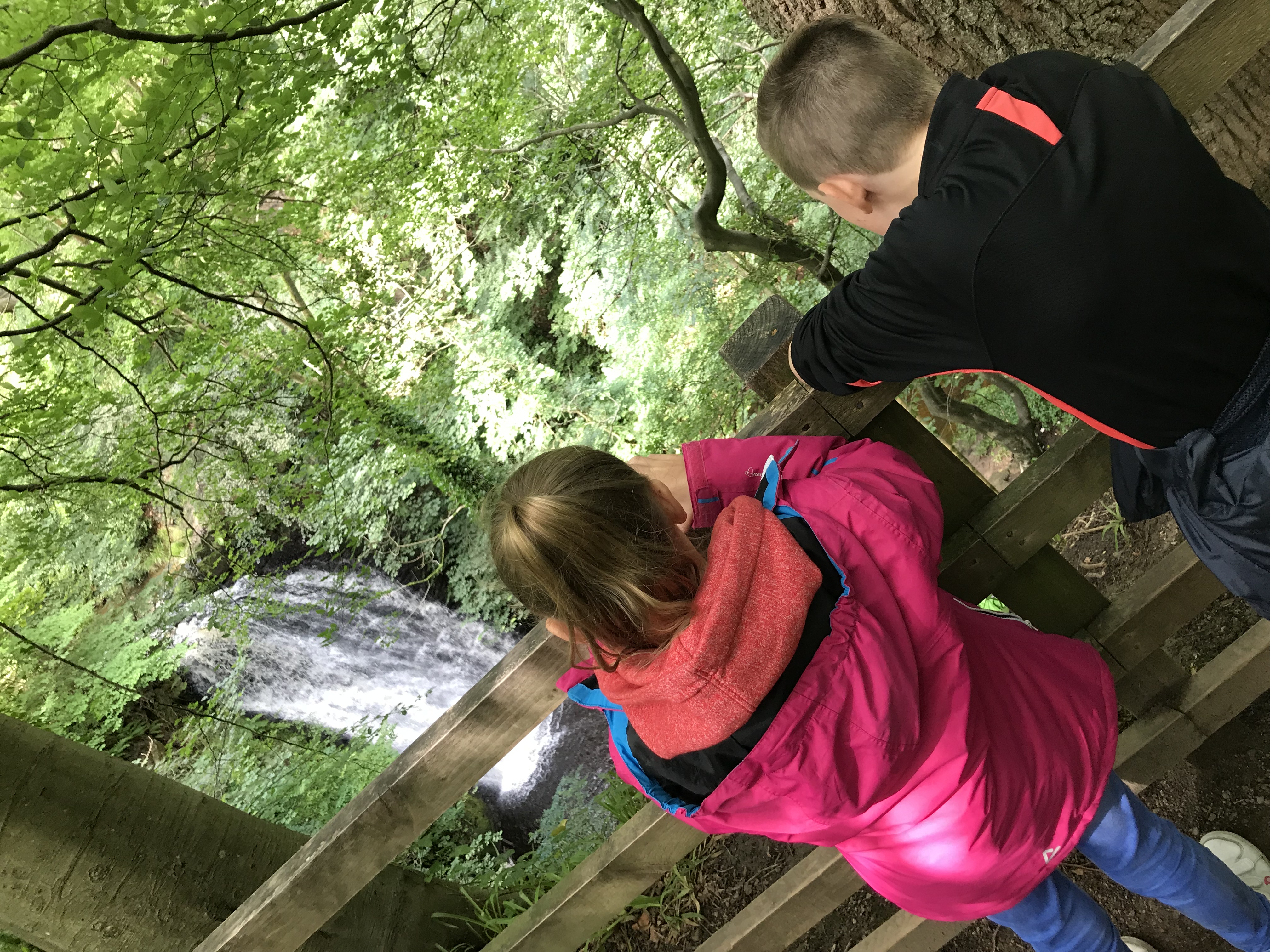 Typically, it was overcast on my day off but we decided not to change plans and headed off soon after breakfast. When we arrived at 11am, I was surpised to find the main car park was already full. It wasn't a problem as there was plenty of parking along the entrance road but I hadn't anticipated how popular this place would be. I was concerned it would be too busy for my liking – not the peaceful day out I had planned. I needn't have worried. There were lots of people milling about at the main entrance and at the tea garden but otherwise we didn't bump into that many people throughout the day.
As we made our way down the steep bridleway to Midge Hall we caught sight of the Falling Foss and stood admiring the waterfall for a good 10 minutes'. We carried on walking down until we found the tea gardens where we got hold of some maps and decided we'd head straight off on a walk before being tempted by coffee and hot chocolate…..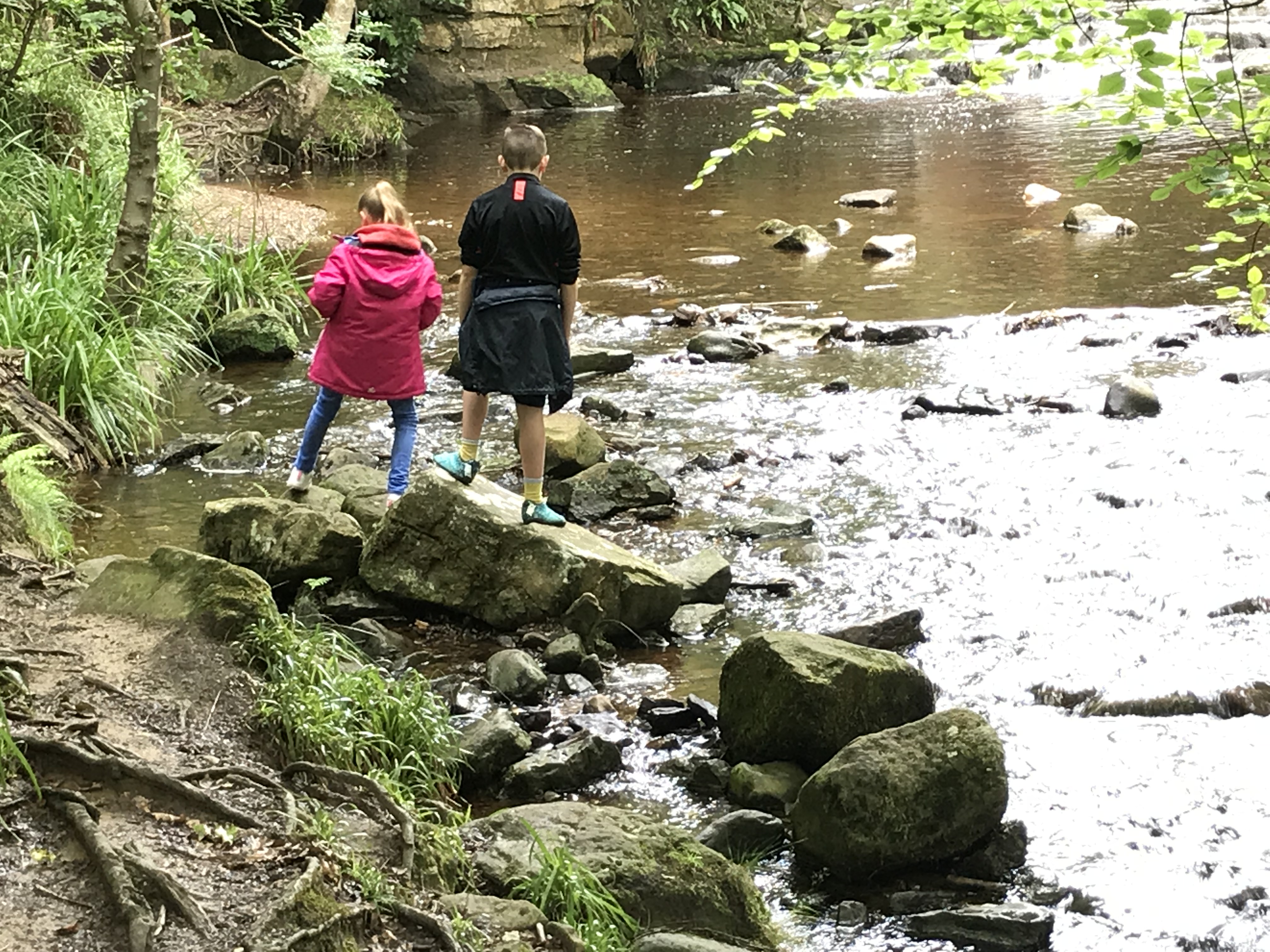 There are 2 walks to choose from – the Fairy Glen Walk and the May Beck Walk. They are both advertised as being 40 minutes walks but we got a little bit lost (not all down to my bad sense of direction – the maps weren't 100% clear!) and the children and dogs kept going off to explore so both walks took about an hour. We decided to go to the Fairy Glen Walk first. This one took us on a lovely circular route passing the waterfall and The Hermitage (a large cave carved out of stone with two wishing chairs on the top). There are some sharp drops and uneven paths along this route so make sure to wear suitable walking shoes (although we did see quite a few people in sandals!). The path then took us along the river and back to Falling Foss Tea Garden where we stopped for lunch.
Lunch was fabulous! The setting was rustic but quite 'hip' with lots of outside seating and the sound of the waterfall and the rustling trees made it very calming even though the place was busy. We were served quickly by very happy and efficient staff. The sandwiches were freshly made with proper granary bread and had generous amounts of filling, the kids had a wide range of homemade cakes to choose from and my Mum and I shared a large cafetiere of coffee – I wish I'd taken note of the blend because it was one of the nicest coffees I've had.
After lunch we headed off on the May Beck Walk. This was our favourite walk as it wasn't as steep and it took us up stream following the river over numerous footbridges and through a pine forest. The kids loved chasing each other through the woods, climbing trees and finding hidden swings along the way. Again, this was a circular walk that took us back to the tea garden and only a short (but steep!) walk back to the car. The kids ended the walk with wet feet from paddling in the stream, dirty clothes and big beaming smiles on their faces. Perfect!
Falling Foss ticked all the boxes for a family day out – the kids were outdoors all day, there was no internet or WiFi, the dogs were well walked and my Mum and I got some quality time together. If you get the chance to go, I would thoroughly recommend it!