Why We Love Whitby - Resident and Tourist Interviews
Whitby Folk – kitchen assistant at Albert's Eatery
Whitby is full of interesting people. Through their daily work they help keep the town ticking and help make it a great town to visit.
Shoreline Cottages has interviewed a number of these 'Whitby folk' to find out why they love the town so much and how they think it's changed. Today we meet Fraser Wood, a kitchen assistant at Albert's Eatery in The Museum of Whitby Jet. While Queen Victoria presides over the Museum of Whitby Jet, it is her Prince consort Albert who inspires our luxurious dining experience. Delivering a memorable dining occasion, Albert's expertly trained chefs specialise in using local produce and ingredients to make mouth watering menu choices for all diners, whether visiting for breakfast, lunch or dinner.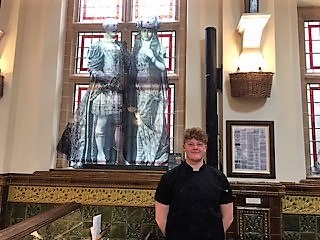 What is your name?
Fraser Wood
What is you job title?
I'm a kitchen assistant. My job is to help in the kitchen, prepare food, make sandwiches, cook, wash up and sort date labels for food. There's nothing bad about the job – I like the people I work with and I've learnt different ways to cook. Goth weekend was very interesting this year. This building is so old fashioned so people come in in their goth outfits and take photos. There is a lot of Victorian glass work in here.
Do you mind telling us how old you are?
16 years old.
Have you lived in Whitby all your life?
Yes, my family have lived here for around 6 or 7 generations. My Mum cleans holiday cottages and works at Sleights School as an advanced teaching assistant. My Dad is head of procurement at Boulby mine.
What do you love most about Whitby?
I like seeing how much Whitby has grown. The town has evolved a lot. Apart from the peak holiday seasons it's not overcrowded and everyone knows eachother.
What do you like least about Whitby?
There isn't anything I don't like about Whitby. I like it as it is.
What has changed in the town over the past 10 years or so?
Lots more houses have been built and new food restaurants have come to the town. We now have Indian and Chinese restaurants and we also have an American Diner! Before it was mainly just fish and chips. I feel Whitby is losing it's identity and needs to keep its heritage. I know we have to move forward but we need to leave some things as they are.
In your spare time what do you like to do?
I enjoy going fishing – it's what you do when you live in Whitby! We go near the lighthouse to fish for mackerel.
Will you ever leave Whitby?
I don't know. I doubt I'll ever want to leave. I grew up here and want to die here. I couldn't think of a better place to live. I'll go on holiday to different places but I'll always live here. I've got a big family including a niece and a nephew who are 3 and 5 years old.