Why We Love Whitby - Resident and Tourist Interviews
Whitby Folk – owner of Full of Beans Coffee
Whitby is full of interesting people. Through their daily work they help keep the town ticking and help make it a great town to visit.
Shoreline Cottages has interviewed a number of these 'Whitby folk' to find out why they love the town so much and how they think it's changed. Today we meet Neil Trillo, the owner of Full of Beans Coffee, a coffee hut at the bottom of kyber pass that sells a variety of coffees and tea as well as cold drinks and snacks.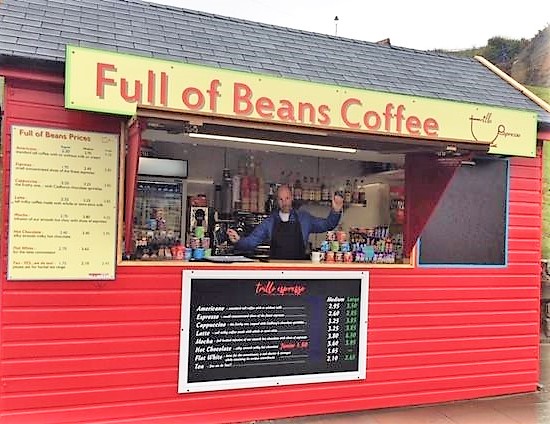 What is your name?
Neil Trillo
What is you job title?
I'm the proprietor of Full of Beans Coffee. I am a barista. I make espresso coffee and scoop fine Whitby ice cream. I like meeting people and get job satisfaction in providing people with what they want. We sell coffee, Whitby rock, traditional homemade fudge, a few local prints and canvasses by a local photographer. I've been selling coffee for 14 years and have taken over another coffee shop called the Kyber Bar. One day we saw our ice cream kiosk float down Pier Road with a tidal surge. It ended up on front of the band stand.
Do you mind telling us how old you are?
52
Have you lived in Whitby all your life?
Yes, my family have lived in Whitby for 2 generations. My Grandparents came over from Italy. They moved here in 1912. They were ice cream makers. My parents were also in the ice cream trade. The ice cream is still made in our factory in Whitby but we lease the factory now to Trillo's of Whitby.
What do you love most about Whitby?
Whitby is unique. It mixes the old with the new without becoming too over-developed. Since the Endeavour trip and Heartbeat series, we have been put on the map.
What do you like least about Whitby?
The seagulls are a bit annoyong! They dive bomb our customers eating our ice cream.
What has changed in the town over the past 10 years or so?
Whitby has become less of a seasonal resort and more of an all round year visitor attraction – similar to York. I'd like it if Whitby was less commercial and continued to hold back some of the 'big boys' that are entering the town of late. It might just become over-developed and lose it's traditional British seaside charm.
Do you have any children?
No.
In your spare time what do you like to do?
I'm a bit of a musician – I play the drums and I'm into the local music scene. I attend the odd jam night in town. In the summer months there's no time for this as I work around 80 hours a week.
Will you ever leave Whitby?
It's unlikely. My family are here and I'm pretty tied with the business. I've got 2 coffee shops and still have an interest in Trillo's, the local Whitby ice cream business.