Why We Love Whitby - Resident and Tourist Interviews
Whitby Folk – Whitby postman
Whitby is full of interesting people. Through their daily work they help keep the town ticking and help make it a great town to visit.
Shoreline Cottages has interviewed a number of these 'Whitby folk' to find out why they love the town so much and how they think it's changed. Today we meet Chris Cheale, a postman who works at the Whitby Royal Mail sorting office….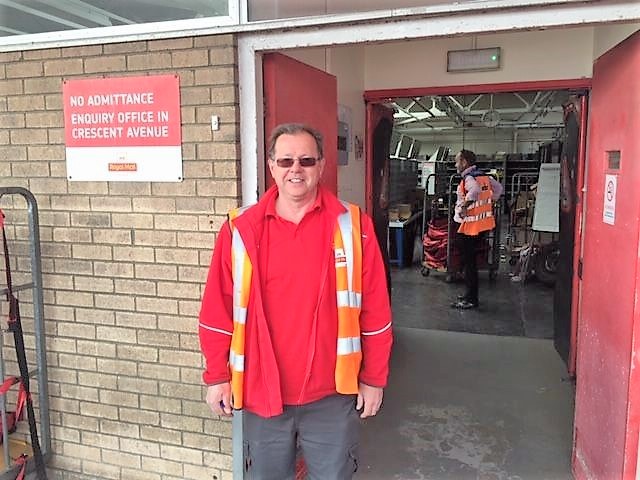 What is your name?
Chris Cheale
What is you job title?
I'm a postman. I've been doing this job for 32 years now. I start work at 7:45am and work 38 hours over a 6 day week. The best bit of the job is delivering out in the countryside. We can go as far as Kildale (27 miles away!) to deliver post. I once left a gate open at a farm that I delivered post to, and 5 bulls got out! I had to round them up and get them back in – I didn't realise until afterwards that they were bulls! The worst part of the job is having to get up early in the morning! This depot opened in 1972 and used to be a Walkers Garage. I've been working at this depot for 15 years.
Do you mind telling us how old you are?
59
Have you lived in Whitby all your life?
No. We decided to move here because the schools were better than where we used to live and its a better environment. My Grandparents used to visit Whitby but none of my family have ever lived here.
What do you love most about Whitby?
I love the sea air. We used to come here for holidays on a weekend. We enjoy eating out at the nice restaurants in Whitby too.
What do you like least about Whitby?
The parking! You just can't find a place to park some days and I don't like it when it gets too busy in the summer. The parking definitely needs improving.
What has changed in the town over the past 10 years or so?
There's much bigger shops nowadays. We have a Sainsbury's and a Lidl and an Aldi opened in May. Whitby has become very popular and it much busier on a weekend. It's become such a popular tourist destination that house prices have been pushed up – making them unaffordable for local people to buy.
Do you have any children?
Yes, 1 boy and 1 girl.
Do you think they will stay in Whitby or move away?
They have already both moved away. Sarah is a cleaner and Ben works in banking. Ben might come back to Whitby one day.
In your spare time what do you like to do?
I like walking on the beaches and going to Sandsend and Scarborough. I enjoy relaxing infront of the television and eating out.
Will you ever leave Whitby?
I might leave Whitby when I retire. My Brother and Sister live in Scotland and my parents recently moved there too – otherwise I would never leave Whitby.