Why We Love Whitby - Resident and Tourist Interviews
Whitby Folk – a fishing boat skipper
Whitby is full of interesting people. Through their daily work they help keep the town ticking and help make it a great town to visit.
Shoreline Cottages has interviewed a number of these 'Whitby folk' to find out why they love the town so much and how they think it's changed. Today we meet Craig Locker, a skipper of Emulate 3…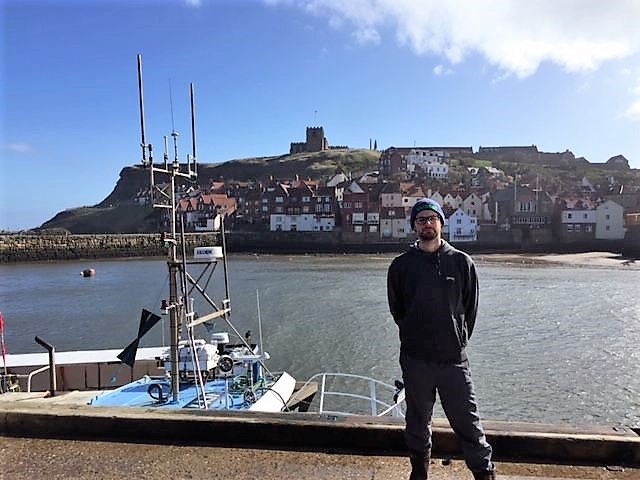 What is your name?
Craig Locker
What is you job title?
I'm a fishing boat skipper
Do you mind telling us how old you are?
37
Have you lived in Whitby all your life?
Yes I have. My family have been living here for possibly 5 generations. My Dad was a fisherman and my Mum was a care nurse. My Grandfather was also a fisherman, he had a boat called the Whitby Rose. We had 3 boats called Emulates. I've been doing this job since leaving school at 16 years old. Emulate 3 is a shellfish boat so we catch crabs and lobsters. We go out most days doing between 10 – 14 hours of fishing. We start at 3am and go up to 30 miles offshore. I like being out at sea away from everyone else – in my own little world. It's quiet! We see whales, dolphins, seals and beautiful sunrises and sunsets. The worst part of the job is when you don't catch anything – I don't make any money if I don't catch anything. The other part of the job that I don't like are all the European restrictions with their rules and regulations. At the moment our prices are going up – it's the fist time in 20 years. There's a big demand from the Korean and Chinese market.
What do you love most about Whitby?
I like living by the sea. I like the fresh air. It's nice when the sun shines.
What do you like least about Whitby?
It's very busy with tourists. I also have an issue with Scarborough Borough Council as most of the money is invested into Scarborough – Whitby does not get it's fair share. Whitby needs to stand on its own 2 feet! It woud be nice to have a few more facilities and attractions for the tourists.
What has changed in the town over the past 10 years or so?
All shipping vessels are over 10 metres nowadays and there has been a steady decline in white fishing – it's now mainly shellfish. People come to Whitby for fresh Whitby fish but there is no such thing nowadays. Another big change is the increase in tourism.
Do you have any children?
Yes, I have a 7 year old boy.
Do you think they will stay in Whitby or move away?
I don't think he'll follow in my footsteps as his Grandfather won't allow it. He wants to be a YouTuber!
In your spare time what do you like to do?
I like going on cruises for my holidays. I like working in my garden and keeping my little lad entertained going bike riding etc.
Will you ever leave Whitby?
No – it's my home! I like going away for weekends but when I come back over the moors and see the Abbey, I know I'm home.