Why We Love Whitby - Resident and Tourist Interviews
Whitby Folk – a volunteer at St. Mary's Church
Whitby is full of interesting people. Through their daily work they help keep the town ticking and help make it a great town to visit.
Shoreline Cottages has interviewed a number of these 'Whitby folk' to find out why they love the town so much and how they think it's changed. Today we meet Ann Gullen – a volunteer shop assistant at St. Mary's Church…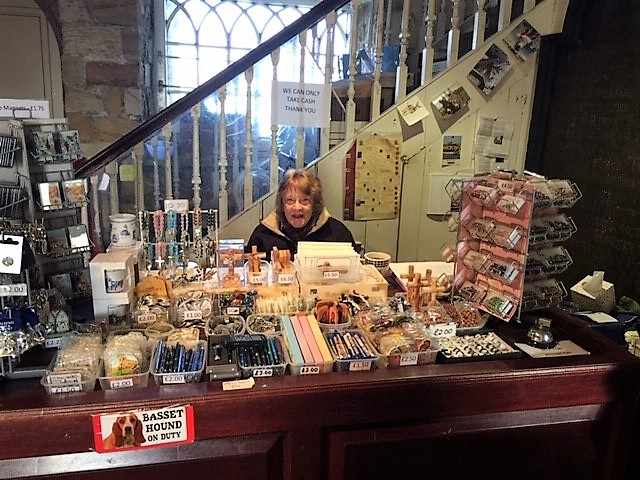 What is your name?
Ann Gullen
What is you job title?
Shop Assistant at St. Mary's Church
Do you mind telling us how old you are?
Over 70
Have you lived in Whitby all your life?
Yes I have. My parents met during the 2nd World War and they moved to Whitby. My father was a librarian at Whitby Museum.
My son works down Bouldy Mine and my daughter works for the Duke of Edinburgh Awards and lives in Lancashire.
Tell us about your job?
I'm a volunteer and have worked here for 5 years. My main job is to meet and greet people and talk to them, give them information and sell memorabilia. I like talking to the visitors. They come from all over the world.
The least thing I like about it is that the stove has been condemned – it is so old – so we don't have any heating in the church.
What do you love most about Whitby?
For me it's the familiarity. You can shop locally and get everything you need and want in Whitby.
What do you like least about Whitby?
The weather and it gets too busy in peak season. Daily routine is difficult in high summer because of the footfall.
What has changed in the town over the past 10 years or so?
It has cleaned up and come up-market. At Christmas the shops on Church Street were a picture. The street was lit and all the shop windows were decorated. It was really attractive. They are all individual shops and the owners take pride in what they do. The national shops don't put in the same amount of effort.
In your spare time what do you like to do?
I teach flower arranging and I am a chairman of the Loftus Flower Club. I also do this job which is voluntary work.
Do you have any children?
Yes – 1 son and 1 daughter.
Do you think they will stay in Whitby or move away?
My daughter has moved away and I doubt she will move back to Whitby. My son went away to work on a cruise ship but met someone and now lives in Whitby again.
Will you ever leave Whitby?
I will never leave. There is no need – I have everything I need and want here.
If there was one thing you would change about Whitby what would it be?
The traffic getting into town – especially during the holidays. I moved into town so I could just walk everywhere.
A bit more information about St. Mary's Church visitors

We get an awful lot of visitors who know more about the church than I do. They follow the different achitectures. They can tell you when different wings were built.
Shoreline Cottages have a number of holiday cottages located on Henrietta Street, very close to the 199 steps that lead to St Mary's Church and Whitby Abbey. For more information please visit search our cottages