Whitby Food & Drink
Whitby Food and Drink Artisans and Producers – The Whitby Catch – fresh fish and seafood
During your stay in one of our cottages you may like to sample some of the great local produce on offer in Whitby. There are many good reasons and benefits for buying local produce. You are supporting small local businesses; getting fresh, seasonal, quality produce;  cutting down the distance the produce has to travel also cuts down on the carbon footprint and of course it is more likely that you will find specialist produce suiting your nutritional needs such as Organic, Vegan and Gluten Free produce.
We would like to introduce you to some of the finest food, drink and produce suppliers and artisans in Whitby and the surrounding area.
The Whitby Catch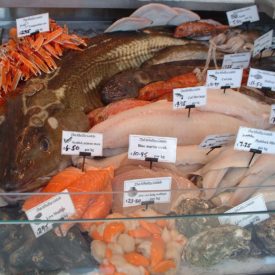 You can find The Whitby Catch at 1 Pier Road, Whitby.
The Whitby Catch offers a large selection of fish and seafood fresh from the sea.  The catch comes straight in from the sea then into the auction market. Once selected, the fish just has to cross the road to the shop.  You couldn't ask for fresher than that!
You can either call in at the shop to choose your fish or order by telephone and online.  The shop is open from 9am until 4pm, 7 days a week.
For more information on The Whitby Catch please click here.