Whitby Food & Drink
Whitby Food and Drink Artisans and Producers – Justin Chocolatier for artisan chocolates and fudges
During your stay in one of our cottages you may like to sample some of the great local produce on offer in Whitby. There are many good reasons and benefits for buying local produce. You are supporting small local businesses; getting fresh, seasonal, quality produce;  cutting down the distance the produce has to travel also cuts down on the carbon footprint and of course it is more likely that you will find specialist produce suiting your nutritional needs such as Organic, Vegan and Gluten Free produce.
We would like to introduce you to some of the finest food, drink and produce suppliers and artisans in Whitby and the surrounding area.
Justin Chocolatier.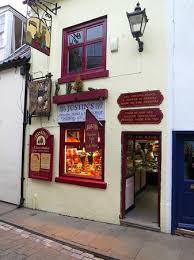 Justin Chocolatier can be found at 129 Church Street, Whitby.
Justins has been making artisan chocolates and fudges in Whitby since 1981. If you are taking a stroll up the cobbles on Church Street you will certainly find the shop…. just follow your nose! The unmistakable smell of chocolate floats out of the door where you can usually see a queue of people eagerly waiting to get in.
The confectionery is lovingly made and traditionally prepared using high quality and natural ingredients. You can also find certain Vegan treats. As well as the traditional chocolates and fudges Justins is also known for its Whitby themed novelty chocolates such as Captain Cook's Cannon Balls and Dracula's Coffins. If you fancy an indulgent treat or looking for a gift to take home for family or friends then look no further.
For more information on Justin Chocolatier please click here.